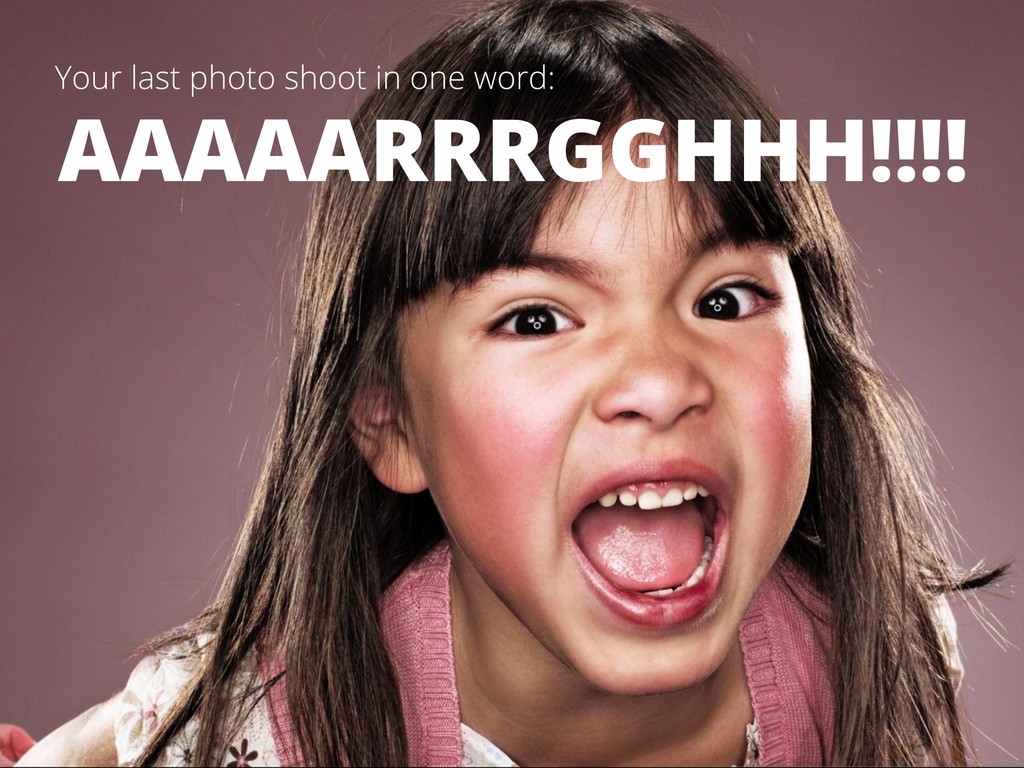 Ever just feel like screaming at the end of a shoot?
Maybe you are just frustrated and overwhelmed with your lack of overall progress. This reminds me of two stories.
Laura on the photo tour
Laura was not having a good day. She had spent more time than anyone else on the photo tour trying to photograph the Einstein Monument, and the signs of frustration were now spilling onto her face.
I heard a heavy sigh as she dropped the camera to her side, took a step back, and frowned.
"What's going on?" I asked. "I can't make this stupid picture do what I want. Let's just go," she said. The frustration was clearly building. "Before we go, can we take a look at what you've created so far? I might be able to help."
"Fine," she said, handing me her camera like she just didn't even want it anymore. I understood her exasperation.
It's common to reach that place at some point in your photography journey. You have a great idea. You can see the image so clearly in your head. Yet when you raise your camera and try to create it, something very different shows up on your screen.
You try again and again to create your masterpiece, randomly changing buttons and settings. It still won't work. You just want to yell, "why won't this camera do what I want it to do?"
Tom in the coffee shop
The topics were what you'd expect from two photographers in a crowded coffee shop — gear, great photo shoot locations, and then, our pictures...
"You ever notice how one person with average photos gets a whole lot of likes and love while another who is really good gets average response? Why is that?"
Now this is an issue that makes photographers bang our heads against a wall. How do you start to stand out from the gigabytes of photos that flow online every minute, it seems?
You can post your best work, and it seems like it just disappears. Other times you get some attention. The whole thing seems really random.
Most photographers struggle with two things
- Taking great pictures
- Standing out as a photographer
What gets in the way? Overwhelm!
There are so many ways to learn
YouTube — Most of us start with YouTube, which can be a great tool. So many talented photographers are generously teaching online, but just as many pretenders are spewing misinformation as insight. You have to be able to tell the difference.
Camera Manuals — You can snuggle up in a corner with your camera manual and a glass of wine. Think how warm and cozy that would be for a couple hours of learning. Unfortunately, that scenario is not very attractive for many people.
Online Classes — Lately, a great option is emerging. You can purchase specific classes from reputable sources. I love those approaches and even bought a few myself. It's a great way to learn a specific skill quickly. If you have follow up questions, however, you can't really ask the expert in the video.
Free ebooks — I am an ebook junkie. I download just about every free ebook ever offered to me on photography. I plan to read them all and have the best intentions. In reality, I barely touch any, I must confess. Who has the time?
The work to find the right solution can be tough. You can waste a lot of time, spend a bundle, and still end up frustrated.
How can I help you?
As I built my photography coaching business, I had the chance to work with thousands of photographers and dissect countless images. I studied the ones who stood out and the ones who didn't.
As an entrepreneur, I also made practically every mistake in the book trying to stand out from the crowd. Early on, I couldn't figure out what I was doing wrong.
Then it hit me. As a 20-year veteran of marketing and communications, I already had most of the tools I needed. If I just employed the skills I used to promote billion-dollar companies, I could begin to make traction.
Today, I am living out my true purpose in helping photographers like you create great pictures, build an audience, and make an impact.


Sometimes you need more than a workshop
How do you get better when you know something needs to change, but you aren't sure where to start first?
Better yet, how do you improve when you don't feel like you have the time to dedicate to make real improvement?
Photo opportunities are passing you by and you aren't getting any better. You are shooting at every available opportunity but you are still stuck
I'd like to help you reach your goal to be a better photographer.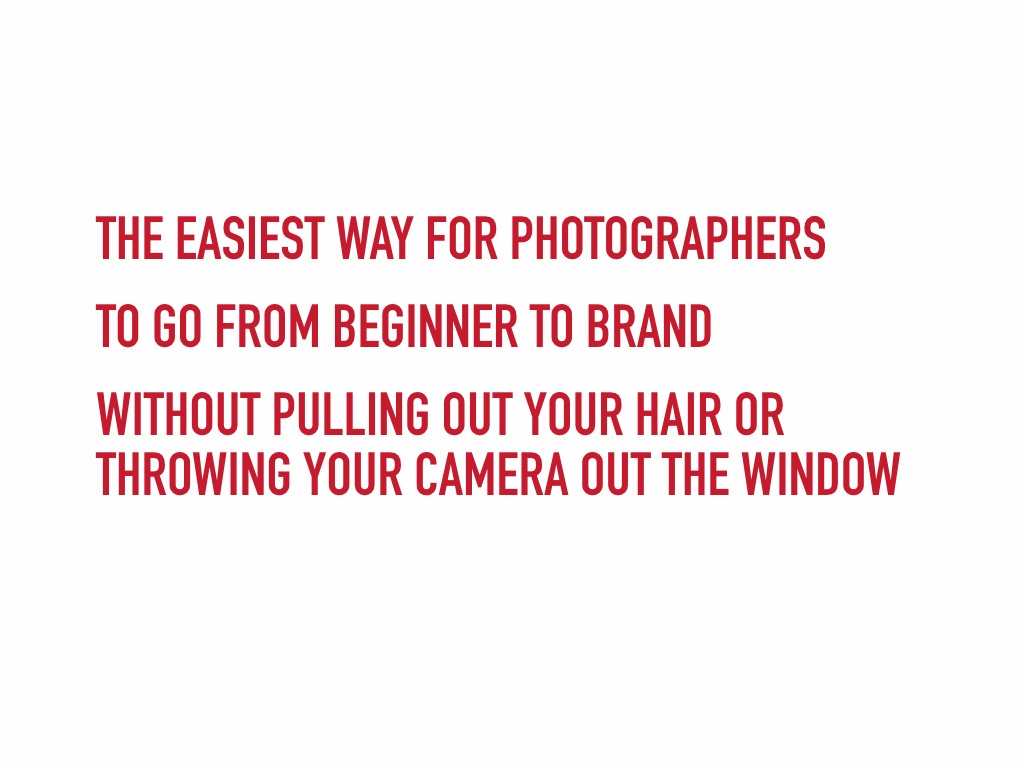 You need a photography mentor to help you reach your goals
I created the easiest way to go from beginner to brand without pulling out your hair or throwing your camera out the window
The Shutterbug Mentoring Club to help you create great photos and build a platform to help your images stand out in the world.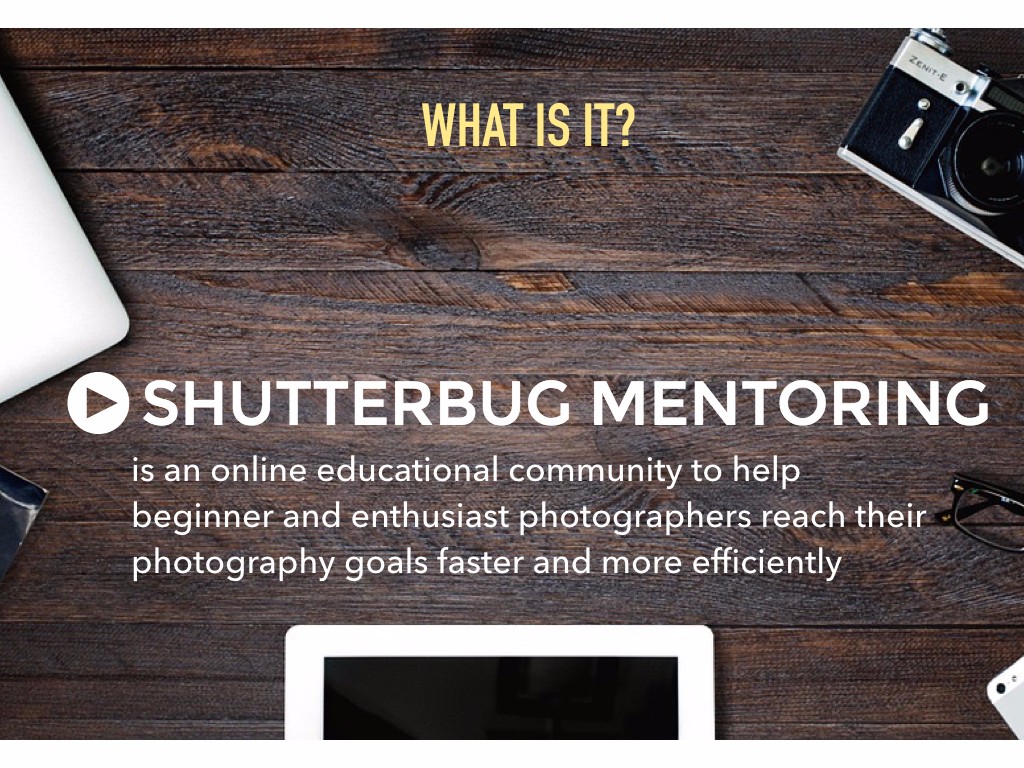 The Shutterbug Mentoring Club shortens your learning curve by providing:
Structure — a proven process to help you learn and improve.
Efficiency — a way to be more focused and make your photography time count.
Support — a place to get feedback on your current photos and projects.
Direction — guidance to help create your big goals and photo projects.
Encouragement — a nudge when you need it, a kick in the pants when you want it.
This will be your community to learn the photography techniques that puzzle you; solve your big challenges; find support and accountability that help you progress; and network with other creatives.
It's personal
When you are in the Mentoring Club, you aren't just another one in the crowd. You will be working with someone who knows you. Someone who knows your challenges and strengths and can offer specific advice.
Here's what you get in the Shutterbug Mentoring Club
Video lessons and downloadable resources, so you can learn and study at your own pace. - Value $49 month
I have recorded all my basic photo tour workshops and they will be available immediately. Each lesson comes with downloadable slides and action plans.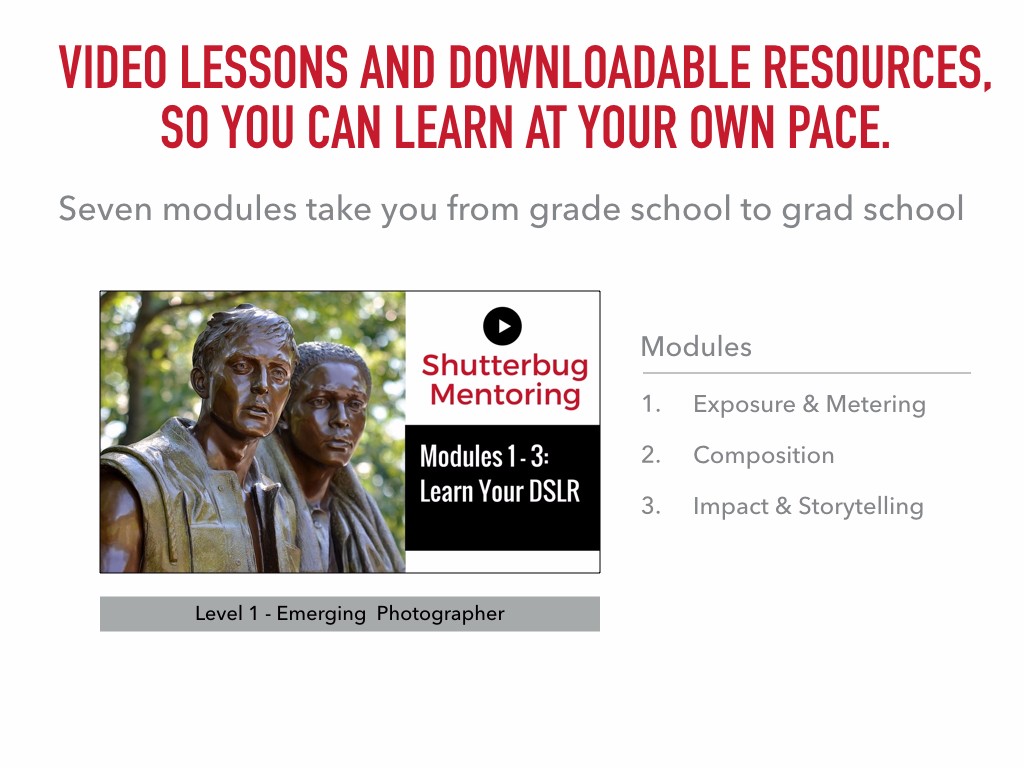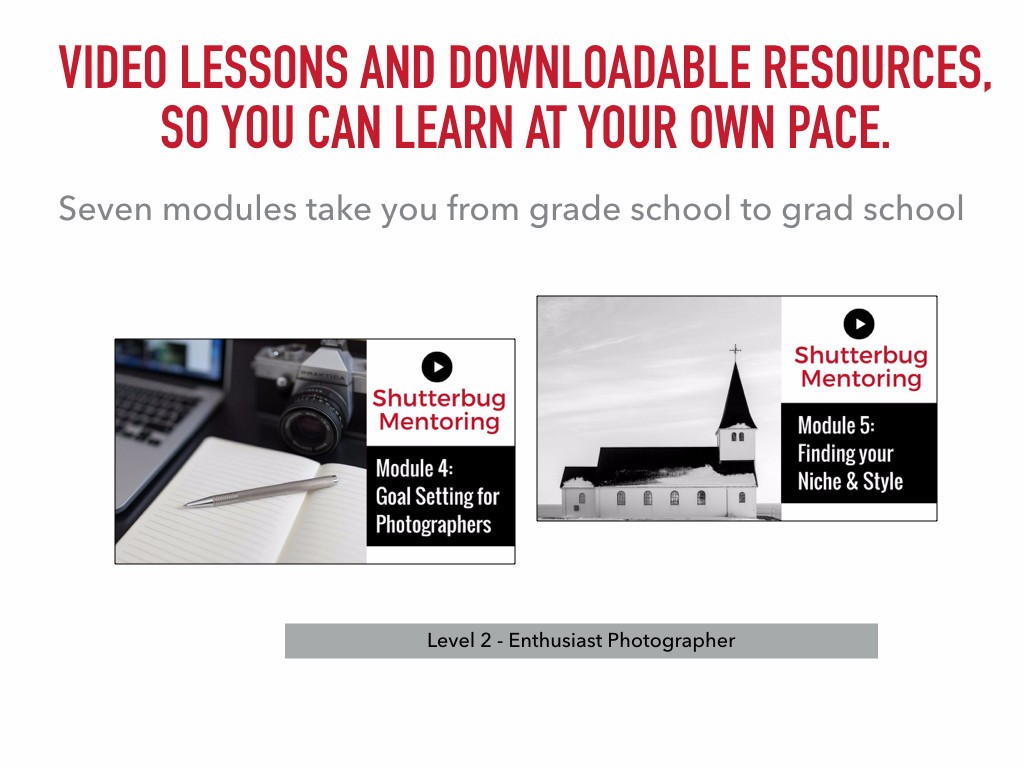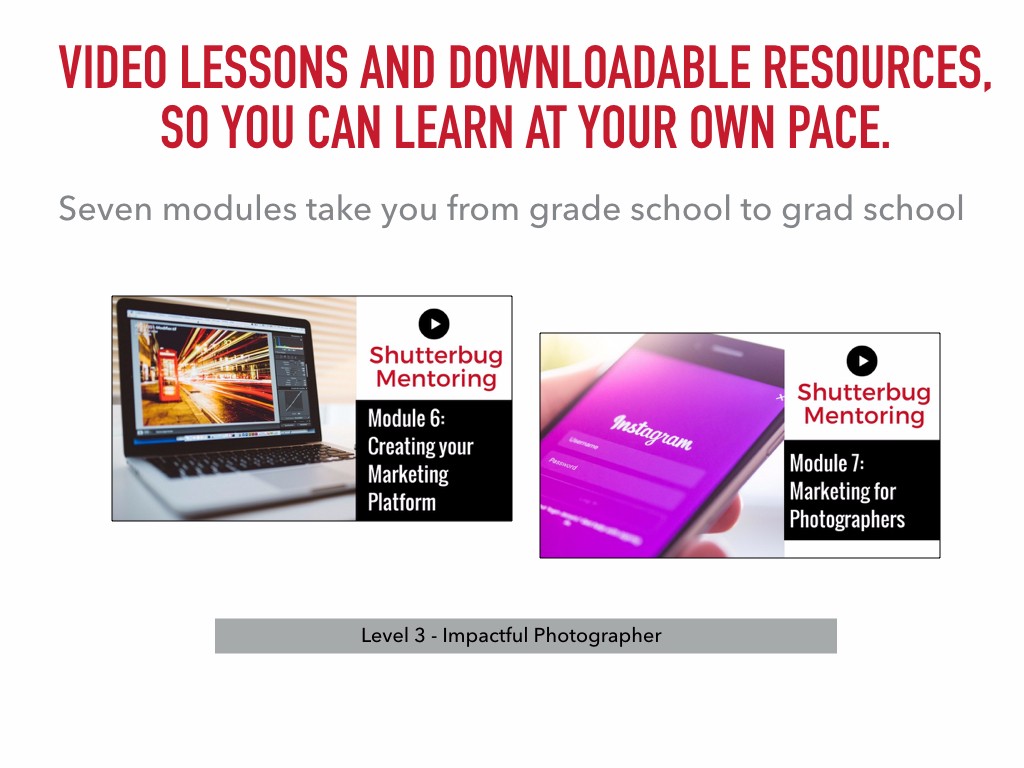 Monthly webinars for members only - Value $200/month
New lessons delivered by member-only webinars. You pick the topics and learn during these live sessions.
Monthly webinars with photo critiques and feedback provided on your photos.
Webinar recordings available to review or listen on demand.
Private Facebook group for members only - Value - $150 month
You are never alone as you work on your photos or projects. You always have the support of your photo coach and other club members.
Real time responses to your photo and camera questions. Ask your questions as you get them. I stop what I am doing to provide full answers in the group.
Share your images or projects for feedback as you go.
Daily prompts and nudges to help support and encourage you.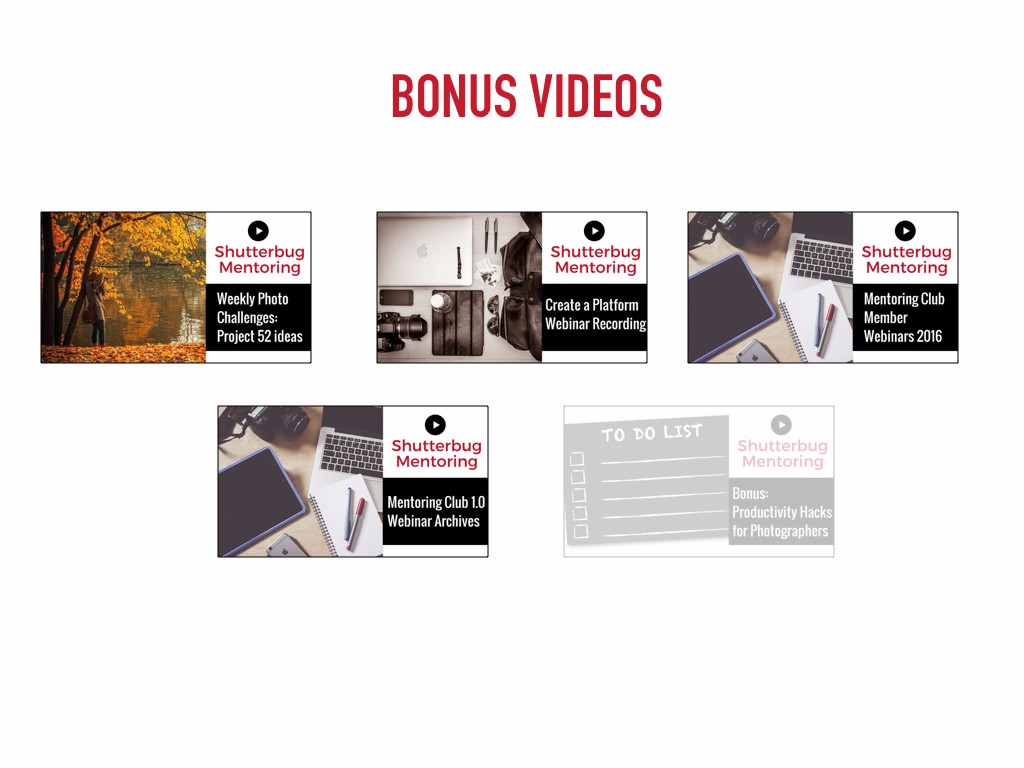 Total Value - $400 month
I've taken what I learned from thousands of hours relearning photography and the years I spent teaching and created a mentoring solution to help you get to your goals faster and more efficiently.
You will have a partner who will work with you to make your photography stand out and reach your goals
Here are comments from our current members